Below we have summarized in Q&A format a list of common questions that are frequently asked by customers and visitors to our site.
What is a short-boom crane?
During machine dismantling and parts-exchange work, etc., when the existing overhead travelling cranes inside a factory do not have the necessary capacity for lifting parts and machinery in order to carry out the exchange or disassembly work, a short-boom crane will be driven into the factory to carry out lifting work in place of the existing overhead travelling cranes.
Short-boom cranes are also used as a substitute for overhead travelling cranes when the customer wishes to reposition or hoist heavy objects (where the factory has no overhead travelling cranes of its own).
| | | |
| --- | --- | --- |
| A short-boom crane in operation | 30t short-boom crane | 60t short boom crane |
What is a safety loader?
During removal, delivery and relocation of machinery, when the factory premises is too narrow to allow the installation of a large-scale crane, a vehicle-loading hydraulic winch or other special-purpose machinery will be used in place of a crane for loading and unloading machinery to and from the flatbed of a truck, which is referred to as a safety loader.
Where the road leading to the customer's factory is also narrow and does not allow the entry of large vehicles (e.g. trailers, etc.), the machinery can be reloaded onto a safety loader at a separate location and carried into the factory for fitting.
(1) Safety loader before commencing loading work
(2) Commencing raising of flatbed
(3) Raising of flatbed completed
What is the extent of the maintenance work that you perform?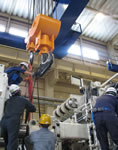 Machine consumables
For example, we perform the following kinds of work.
Example 1: Replacement of parts such as O-rings and gasket packing used in cylinders and piping, etc.
Example 2: Replacement of damaged or broken parts
Example 3: Levelling of machinery that has moved, etc.
*In the case of complex maintenance work, having a supervisor from the manufacturing company present to supervise Sun Engineering's engineers will enable us to support and complement the manufacturer's on-site workers.
Do you undertake contracted electrical wiring and piping work?
Yes, if you are able to provide the necessary wiring diagrams, piping diagrams, material supplies and other necessary materials. Alternatively, if you allow us to do so, Sun Engineering can prepare new drawings and materials and perform all-in-one electrical wiring and/or piping work; from wiring and piping for machinery and factory relocations to wiring and piping for the large-scale machinery produced by various manufacturers.
| | |
| --- | --- |
| Electrical wiring work | Piping work |
Do you have warehouses for storing our machinery?
Yes, we have approximately 1,548m2 of warehouse space. Our warehouse is fully equipped with two overhead travelling cranes: a 50t/25t crane and a 20t/5t crane. The warehouse also has a high 15m ceiling, enabling storage of vertically tall large-scale machinery.
The floor of our warehouse is also rated for a maximum load capacity of 100t (across the entire span of the floor), enabling long-term storage of large-scale heavy machinery.
| | | |
| --- | --- | --- |
| Warehouse | 20t/5t crane | 50t/25t crane |
What kinds of large-scale machinery do you assemble and fit?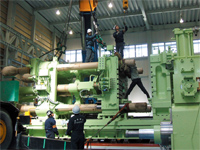 | | |
| --- | --- |
| Die-casting machines | : capacity 1250t~4000t |
| Molding machines | : capacity: 1000t~3000t |
| Extrusion presses | : capacity 1650t~4000t |
| Presses: capacity | : 500t~2000t |
| Machine tools | : horizontal boring machines, gantry-type, etc. |
Our engineers assemble and install a wide range of machines, from small-scale machines to super large-scale heavy machinery.
If we have a request, will you come out to us wherever we are?
Yes. To enable us to cater to the needs of manufacturers and users, we respond to orders through a nationwide network. Representatives will travel swiftly to your location at a single telephone call. If you have a sudden concern, please consult with us first by phone.
Up to how many tons of haulage capacity do you have?
Our trailers can transport up to 100t of cargo. We also handle the full process from obtaining on-road permits, conducting road inspections and preparing other necessary documents required for road transportation to the actual haulage operation itself.
Our location is narrow and doesn't allow for entry by heavy machines or vehicles. Can you still carry out new installation and/or relocation of our machines?
Yes. Regardless of how narrow your location is, we can use machinery that is able to handle conditions at your site in order to perform the necessary work.
For example, using our mini crawler cranes (also called "crab cranes") we can hoist heavy objects weighing up to 2.9t, even in narrow spaces.
For heavy loads of greater than 2.9t, we can assemble a gantry crane on site to carry out the necessary lifting work.

A crab crane in operation

60t gantry crane
(prior to assembly)

60t gantry crane
(after assembly)
Is it possible to receive documentation, etc., after processing of scrap?
Yes. Sun Engineering has a permit for carrying out the collection and transportation of industrial waste, which enables us to transport and dispose of waste, etc., using our own vehicles.
We also have waste processing service providers issue a manifesto after disposal, and send it to our customers.
Do you have insurance for in the event of accidents during transportation, relocation and installation (of machinery)?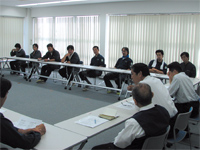 Yes. Our transportation services and other work are covered by a full and comprehensive insurance package that covers both machinery and work carried out; for our vehicles, relocation and delivery (i.e. carrying in) of new machinery. In the unlikely event of an accident or other issue, our representatives will respond swiftly and appropriately.