Sun Engineering has facilities and equipment to cater to a diverse range of needs, including not only the transportation of heavy goods, but also maintenance and test operation of machinery.
Sun Engineering has a total of six warehouses: four at its head office in Ota-shi (Gunma), one at its Higashifuji office (Shizuoka), and one at its factory in Thailand (Sriracha Chonburi province). In addition to temporary storage during transportation and assembly/disassembly during maintenance work, our warehouses are equipped with facilities and equipment to cater to a wide range of customer needs; including painting booths for post-maintenance machine painting and coating needs, and power supply equipment that enables test operation of super-heavy goods and large-scale heavy machinery.
See here for a list of specifications for each warehouse.
Head Office Warehouse No. 1
Basic Specifications
Main building
Area (m2)
1553.5 (32.5☓47.8)
Height (m)
15
Warehouse
entrance
Height (m)
6
Width (m)
5
External roofed
space
(Under Eaves)
Height (m)
8
Depth (m)
6
Floor
Load capacity
(t/m2)
5
Total load
capacity (t)
100
Crane facilities
50t/25t 1 (one unit)
20t/5t 1 (one unit)
Power supply equipment
Cubicle power supply equipment capable of supplying power to all manner of machinery and equipment
Power supply capacity

800 kVA

200V, 800A (4 locations)
200V, 30A (8 locations)

Air equipment

Air pipes: 25A
15mm coupler stoppers
8 locations x 2 outlets
Compressors: made by Hitachi Industrial Equipment Systems Co., Ltd.
Max. power output: 7.5kW
Air output volume: 1280l/min

Cooling water equipment

Cooling water supply & wastewater circulation pipes: 50A
Valve stoppers 4 locations ☓ 2 outlets
Cooling capabilities: max. power output: 90.7kW
Water volume: 260l/min
Cooling towers: automated cooling type

Security facilities
Machinery and goods stored in our warehouses are protected by 24-hour surveillance and security, through our contract with the security company Secom Co., Ltd. Our warehouses are also fully insured for in the unlikely event of a security breach.
Solar power
120kW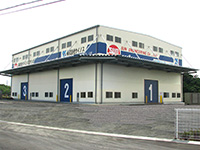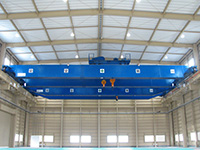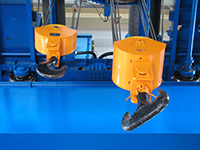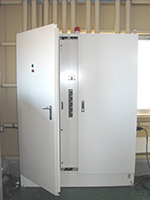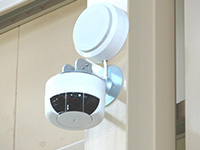 Head Office Warehouse No. 2
Basic Specifications
Main building
Area (m2)
4312 (49 ☓ 88)
Height (m)
15
Warehouse
entrance
Height (m)
5
Width (m)
5
External roofed
space
(Under Eaves)
Height (m)
7.55
Depth (m)
5
Floor
Load capacity
(t/m2)
5
Total load
capacity (t)
100
Crane facilities
30t 3 (one unit)
10t 1 (one unit)
Power supply equipment
Cubicle power supply equipment capable of supplying power to all manner of machinery and equipment
Power supply capacity

750 kVA (*Combined total for Head Office Warehouses 2, 3 and 4)

200V, 800A (4 locations)
200V, 100A (8 locations)
200V, 40A (4 locations)
200V, 30A (8 locations)

Air equipment

Air pipes: 25A
15mm coupler stoppers 1
3 locations ☓ 2 outlets
Compressors: made by Hitachi Industrial Equipment Systems Co., Ltd.
Max. power output: 7.5kW
Air output volume: 875l/min

Cooling water equipment

Cooling water supply & wastewater circulation pipes: 50A
Valve stoppers 11 locations ☓ 2 outlets
Cooling capabilities: max. power output: 90.7kW
Water volume: 260l/min
Cooling towers: automated cooling type

Security facilities
Machinery and goods stored in our warehouses are protected by 24-hour surveillance and security, through our contract with the security company Secom Co., Ltd. Our warehouses are also fully insured for in the unlikely event of a security breach.
Solar power
581.4kW (*Combined total for Head Office Warehouses 2, 3 and 4)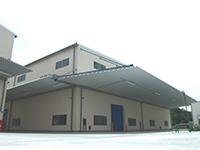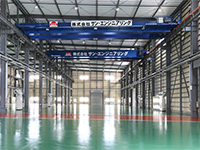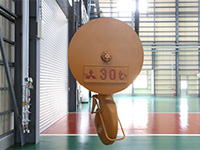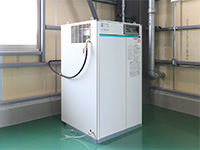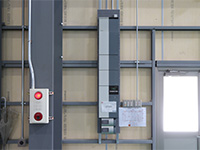 Head Office Warehouse No. 3
Basic Specifications
Main building
Area (m2)
1875 (25 ☓ 75)
Height (m)
15
Warehouse
entrance
Height (m)
5
Width (m)
5
External roofed
space
(Under Eaves)
Height (m)
7.55
Depth (m)
5
Floor
Load capacity
(t/m2)
5
Total load
capacity (t)
100
Crane facilities
10t 2 (one unit)
2.8t 2 (one unit)
Power supply equipment
Cubicle power supply equipment capable of supplying power to all manner of machinery and equipment
Power supply capacity

750 kVA (*Combined total for Head Office Warehouses 2, 3 and 4)

200V, 800A (1 location)
200V, 100A (2 locations)
200V, 40A (1 location)
200V, 30A (2 locations)

Air equipment

Air pipes: 25A
15mm coupler stoppers 1
2 locations ☓ 1 outlet
Compressors: made by Hitachi Industrial Equipment Systems Co., Ltd.
Max. power output: 7.5kW
Air output volume: 875l/min

Cooling water equipment

Cooling water supply & wastewater circulation pipes: 50A
Valve stoppers 8 locations)☓2 outlets
Cooling capabilities: max. power output: 90.7KW
Water volume: 260l/min
Cooling towers: automated cooling type

Security facilities
Machinery and goods stored in our warehouses are protected by 24-hour surveillance and security, through our contract with the security company Secom Co., Ltd. Our warehouses are also fully insured for in the unlikely event of a security breach.
Solar power
581.4kW (*Combined total for Head Office Warehouses 2, 3 and 4)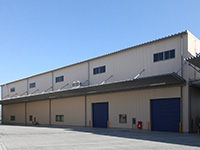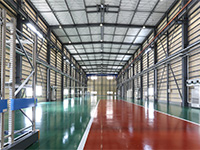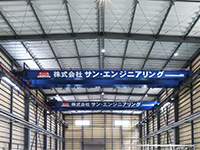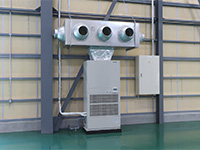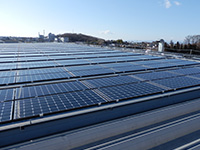 Head Office Warehouse No. 4
Basic Specifications
Main building
Area (m2)
1200 (30 ☓ 40)
Height (m)
15
Warehouse
entrance
Height (m)
5
Width (m)
5
External roofed
space
(Under Eaves)
Height (m)
7.55
Depth (m)
5
Floor
Load capacity
(t/m2)
5
Total load
capacity (t)
100
Crane facilities
10t 1 (one unit)
2.8t 1 (one unit)
Power supply equipment
Cubicle power supply equipment capable of supplying power to all manner of machinery and equipment
Power supply capacity

750 kVA (*Combined total for Head Office Warehouses 2, 3 and 4)

200V, 800A (1 location)
200V, 100A (2 locations)
200V, 40A (1 location)
200V, 30A (2 locations)

Air equipment

Air pipes:25A
15mm coupler stoppers
9locations ☓ 1 outlet
Compressors: made by Hitachi Industrial Equipment Systems Co., Ltd.
Max. power output: 7.5kW
Air output volume: 875l/min

Cooling water equipment

Cooling water supply & wastewater circulation pipes: 50A
Valve stoppers 4 locations) ☓ 2 outlets
Cooling capabilities: max. power output: 90.7kW
Water volume: 260l/min
Cooling towers: automated cooling type

Security facilities
Machinery and goods stored in our warehouses are protected by 24-hour surveillance and security, through our contract with the security company Secom Co., Ltd. Our warehouses are also fully insured for in the unlikely event of a security breach.
Solar power
581.4kW (*Combined total for Head Office Warehouses 2, 3 and 4)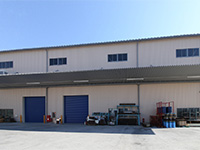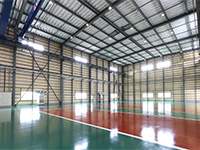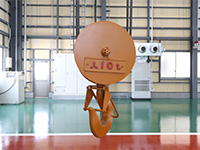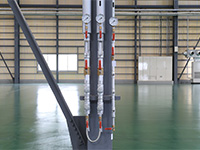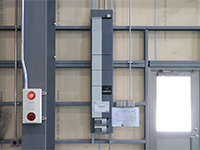 Higashi Fuji Office Warehouse
Basic Specifications
Main building
Area (m2)
1266 (30 ☓ 42.2)
Height (m)
15
Warehouse
entrance
Height (m)
5
Width (m)
5
External roofed
space
(Under Eaves)
Height (m)
7.65
Depth (m)
8
Floor
Load capacity
(t/m2)
5
Total load
capacity (t)
100
Crane facilities
50t/25t 1 (one unit)
25t/25t 1 (one unit)
Power supply equipment
Cubicle power supply equipment capable of supplying power to all manner of machinery and equipment
Power supply capacity

375 kVA

200V, 800A (3 locations)
200V, 200A (1 location)
200V, 30A (19 locations)

Air equipment

Air pipes:25A
15mm coupler stoppers
8 locations ☓ 2 outlet
Compressors: made by Hitachi Industrial Equipment Systems Co., Ltd.
Max. power output: 11kW
Air output volume: 1280l/min

Cooling water equipment

Cooling water supply & wastewater circulation pipes: 50A
Valve stoppers 4 locations) ☓ 2 outlets
Cooling capabilities: max. power output: 90.7kW
Water volume: 260l/min
Cooling towers: manual cooling type

Security facilities
Machinery and goods stored in our warehouses are protected by 24-hour surveillance and security, through our contract with the security company Secom Co., Ltd. Our warehouses are also fully insured for in the unlikely event of a security breach.
Solar power
98.1kW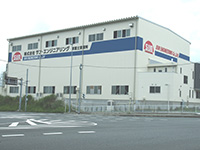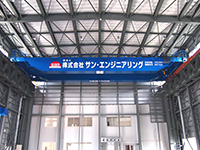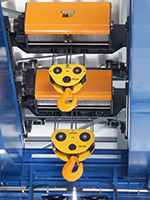 Thailand Factory Warehouse
Basic Specifications
Main building
Area (m2)
1815 (25 ☓ 66)
Height (m)
16.5
Warehouse
entrance
Height (m)
5
Width (m)
5
External roofed space
(Under Eaves)
Height (m)
6.43
Depth (m)
6.947
Floor
Load capacity
(t/m2)
5
Total load
capacity (t)
100
Crane facilities
50t/15t 1 (one unit)
30t/5t 1 (one unit)
Power supply equipment
Cubicle power supply equipment capable of supplying power to all manner of machinery and equipment
Power supply capacity

500 kVA

400V, 400A (2 locations)
200V, 800A (4 locations)
100V, 30A (8 locations)

Air equipment

Air pipes:15A
15mm coupler stoppers
13 locations ☓ 2 outlets
Compressors: made by Kobelco Compressors Corporation
Max. power output: 22kW
Air output volume: 660l/min

Cooling water equipment

Cooling water supply & wastewater circulation pipes: 50A
Valve stoppers 6 locations ☓2 outlets
Circulation pump: max. power output: 99.1kW
Water volume: 283l/min
Cooling towers: automated cooling type

Security facilities
Machinery and goods stored in our warehouses are protected by 24-hour surveillance and security, through our contract with the security company Secom Co., Ltd. Our warehouses are also fully insured for in the unlikely event of a security breach.
Solar power
―